Ever wanted to look the Destroyer character dead in the eye? DGU and artist Daniel Falcon are now giving you the opportunity through the XXL Profile Destroyer.
Released in two plastics
How the Echo Star Fly:
Our testers have likened these to a beat-in Star Destroyers or a brand-new Katana. With a firm, flat pull, this batch will turn, but they have enough fight so that they won't completely turn and burn. Great for consistent ultra-long range 'S' flights.
More about the design
Getting such a close up look of the Destroyer character, one must wonder what's going on behind that mask. Falcon believes the machine to be self-aware and probably plays disc golf in its own way.
"He's battle-damaged so he's probably pretty aggressive with it (disc golf)," said Falcon, a self-taught artist.
Though not a disc golfer himself (Falcon is still hoping to get out to the course for the first time) he was already aware of the Destroyer.
"For someone who's never played the game of disc golf, it's the one disc I've heard of," said Falcon.
Tweaking the original

Falcon used pics of Levi Wilcox's original Destroyer character as a frame of reference that allowed him to get the basic structure of its face. After that, he took a deep dive into the details, getting as techie and mechanical as possible.
"I wanted to do something that would be its own, but still honor the original," said Falcon.
Don't cover up the goods
One of my favorite aspects to the design are the hydraulics and other cool gizmos below the Destroyer's chin. Not only are they cool decoration, but Falcon said they would also have a function in operating the Destroyer's head.
Falcon, who sees his fair share of real life inner workings as an interior repair specialist at a GM Dealer, said normally something like that would be covered up with a sleeve or boot, but "I thought people would rather see what's inside."
He personally enjoyed adding the armor plates around the Destroyer's nose and eyes, which gave that area more shape and form.
Falcon finds DGU
Falcon's co-worker and friend Jacque Maxler, who's an avid disc golfer was the one that got all of this started. Maxler wanted to thank a friend in California for introducing him to disc golf with a Star Roc3 that he asked Falcon to customize with a drawing. After seeing the results, Maxler felt like he had to share it with Innova, which eventually led him to us.
"Trust me, it's probably the coolest art on a disc anyone has seen," Maxler said in his email. Here it is below.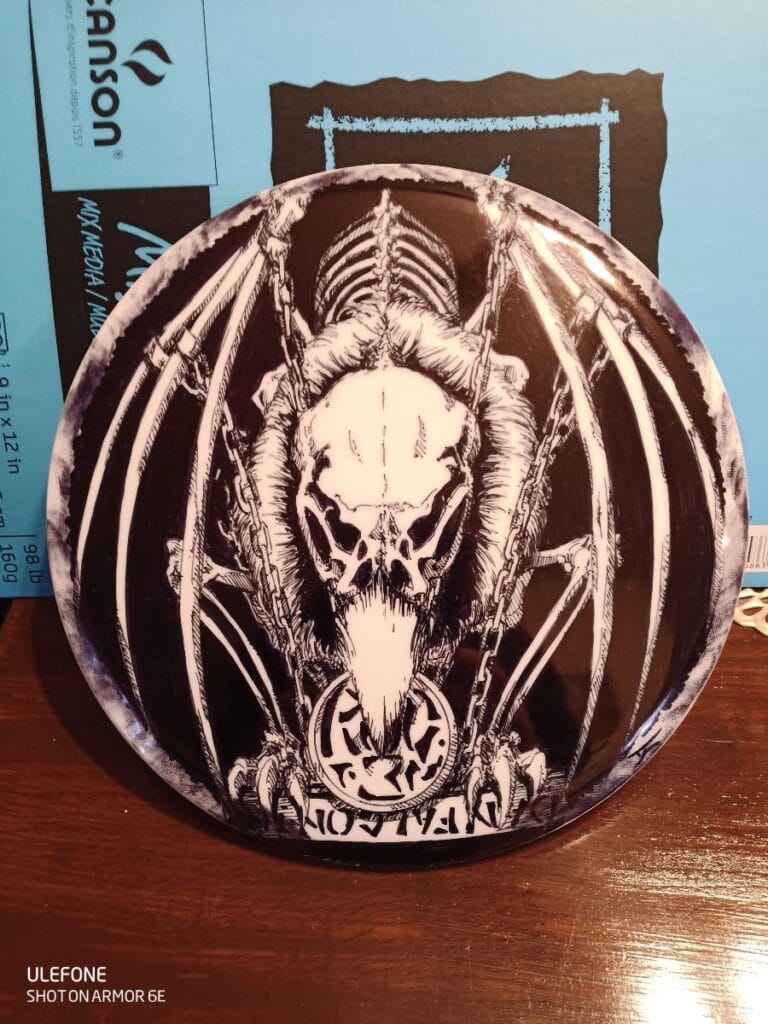 Well said, Jacque!
We agree. Falcon's Destroyer rightfully sits among all of the other previous interpretations and will be a disc you will want in your collection or your bag. Act fast, this will be a hot DGU disc, possibly the biggest of the year.
What's Next?
Need help finding the perfect disc for a specific shot, better accuracy, or more distance? We're here to help! Just follow the link below to answer a short questionnaire. We'll send you FREE personalized disc recommendations within 1 business day along with a coupon code for $5 off your next order.
GET PRO TIPS