No One Out Pizza's the Heimburg
Calvin Heimburg may be a man of few words, but you can't miss his wry sense of humor when you check this Hand-Tossed Rhyno featured in a soft blend of Innova Champion plastic.
Heimburg is depicted with oversized sunglasses and a mop of curly hair – a look he was celebrated for last year from Jomez coverage of the Preserve Championship and elsewhere.
What's available: Innova Champion Rhyno Soft Blend.
How this batch feels:
Deliciously gummy and flexy. Excellent grip for Champion plastic.
Pro tip:
Pink blends are the gummiest.
Why buy these:
If you love gummy, overstable putters with a one-of-a-kind stamp you'll be kicking yourself if you miss this limited release.
More about the stamp design:
To complete the zaniness of the design by Marm O. Set, Heimburg is posed with his arms crossed in a manner that reminds you of a tough guy holding a pair of lead shooters.
The pizza tie-in may seem completely random at first, but it all makes sense after learning his putting mantra, "Put the pizza in the oven,".
More about the Sunglasses:
Following the Memorial Championship last year (which he won), Heimburg discovered Oakley Sutro sunglasses – similar to ones Kansas City Chiefs star Patrick Mahomes wears. He loved how over-the-top they appeared and thought it would be fun to get some.
"But I didn't want to spend a couple hundred dollars on them. I was able to find some knock offs on the internet for $15 and figured I'd bust them out the first time I was on a lead card after I got them," said Heimburg, the 2019 National Tour Series winner.
Here's a screenshot of the Jomez intro when he first donned his fake Sutro sunglasses at The Preserve Championship. He wore them elsewhere too, including the Green Mountain Championship and the Jonesboro Open.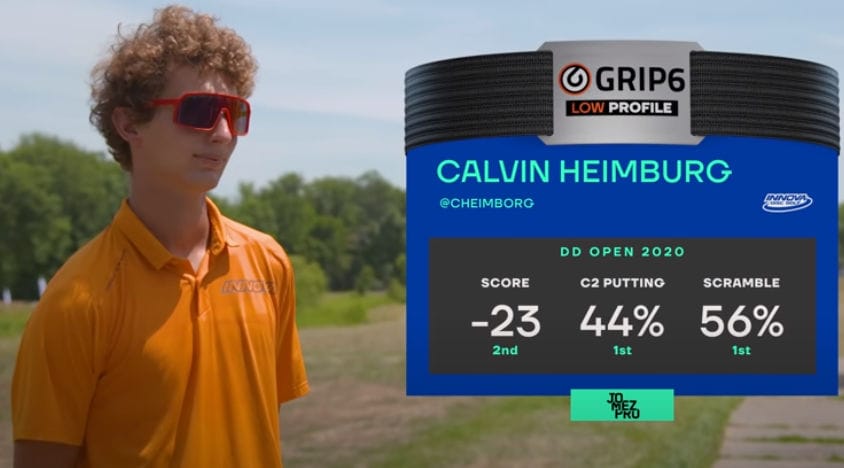 All in all, the sunglasses paired with the cheese-dripping pizza is a hilarious stamp design that reinforces Heimburg's habit of not taking himself too seriously.
More about the Rhyno:
The Innova Rhyno is an overstable putt and approach disc that can handle headwinds. Great for players with lots of throwing power as the Rhyno stops on a dime and stays close to the basket. Calvin bags them for stable approach shots.
Support Calvin!
While this isn't his official Innova Tour Series Disc from the Factory Store, Calvin will still receive a portion of discs sales to compliment his touring efforts. Support Calvin and his healthy sense of humor with these Rhynos!
What's Next?
Need help finding the perfect disc for a specific shot, better accuracy, or more distance? We're here to help! Just follow the link below to answer a short questionnaire. We'll send you FREE personalized disc recommendations within 1 business day along with a coupon code for $5 off your next order.
GET PRO TIPS