The Best Disc Golf Courses for Beginners
If you are new to the game, it's important to find the right place to play disc golf. There are a lot of disc golf courses, but not all are suitable for beginners. A little homework is all it takes to find the right disc golf course for you:
In this blog:
We'll show you how to find a beginner disc golf course.
And how to match/transition your skills to more advanced level courses.
Finding a Beginner-Friendly Course
Imagine this scenario: You just bought your first disc golf discs and now you're itching to try out this frisbee golf thing at your local course. Not knowing much about the sport, you assume that all courses are roughly the same. However, after a few difficult holes, you quickly feel outmatched. Frustration continues for the rest of the round and you leave the course feeling disappointed, tired, and regretting your disc purchase.
Believe it or not, this happens more often than you might think. But it doesn't have to happen to you if you first seek out beginner-friendly disc golf courses.
Course Locators
There are several different online resources you can use to find appropriate disc golf courses in your area. You can search on websites like Disc Golf Course Review and the Professional Disc Golf Association or download the UDisc app. It's free to set up a basic UDisc account, and they also offer paid plans with interactive scorecards, personal stats, and other great features. The course reviews from players are also a helpful insight into the course's difficulty.
Tip: While searching, look for course descriptions with "short," "beginner" or "new player." Also, take a look at the total length of the course. Try to stick to courses that are less than 4,000 total feet. Many beginner courses are only 9 holes. Courses on public school property are also great locations for beginners. Keep in mind most are closed during the school day.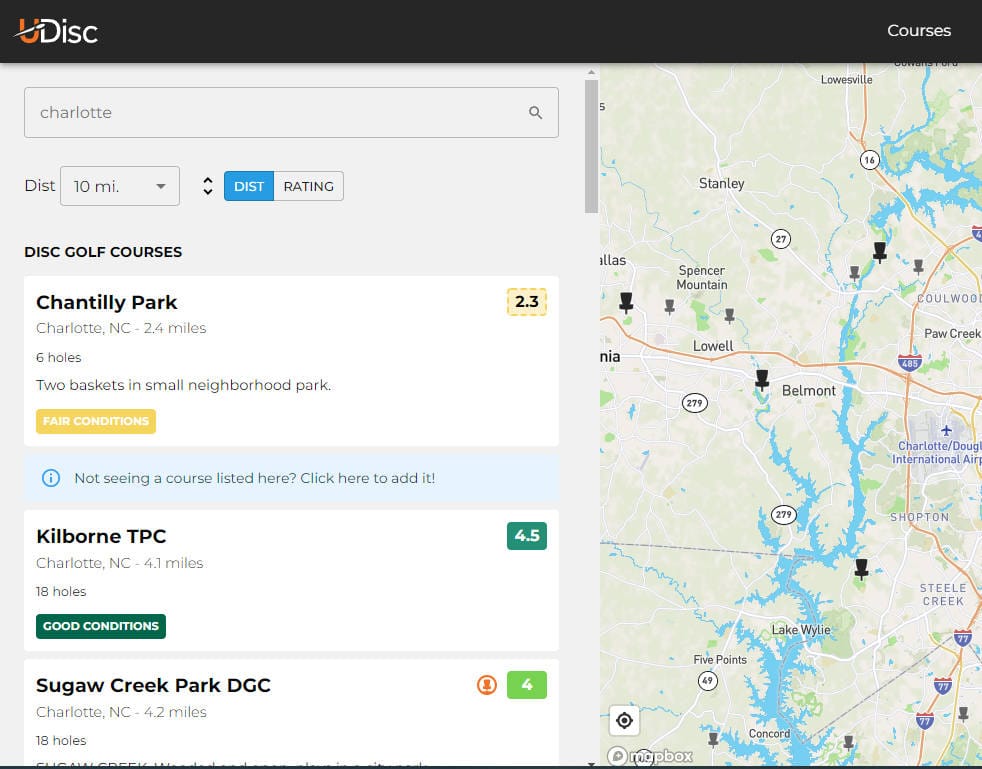 Pitch and Putt courses are fun!
Beginner-friendly courses are often referred to as "pitch and putt," just like the executive and par-3-only tracks you'll find in traditional golf. Usually, they feature shorter holes in the 100–250-foot range. These layouts are great for beginners and juniors who can't quite throw as far yet and/or need to work on their short games. A pitch and putt disc golf course will allow you to learn the basics and still have fun.
Tip: Most professional disc golfers and teachers recommend starting with slower-speed discs like mid-range discs and putters to learn proper throwing form. Once you master those discs, you can move up to throwing faster fairway drivers and distance drivers.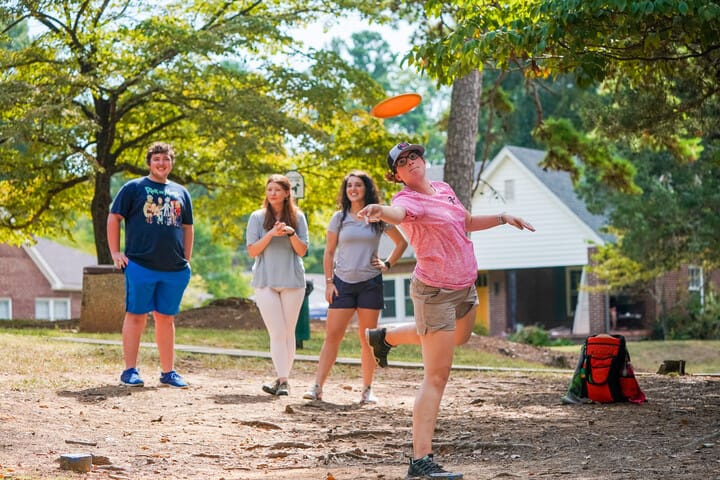 When there's not a Beginner course in your area
It's true, a beginner-friendly course may not be within driving distance. When that's the case, utilize whichever course is nearby and adjust to it. Try the following:
Use the shortest course settings available including tee pads and pin placements.
If shorter settings aren't available, create your own tee pad within a reachable distance to the basket using extra discs or ground debris.
Disregard out of bounds penalties until you have a better grasp on the course.
Adjust the par one extra stroke on longer holes.
Give yourself a Mulligan (Re-do) for each hole.
Practice! Practice! Practice!
If there are limited course options in your area, become an expert in the ones available. One day, instead of playing a round, practice the difficult holes repeatedly until you figure them out. Experiment with every disc in your bag. You never know which disc might suit you best in a tricky situation.
Take off the training wheels when ready
If there are limited courses nearby, gradually remove your "beginner course alterations" until you are ready. Keep your alterations like shorter tee pads, mulligans, and others on the more difficult holes. After a while, you'll be playing the course in its original settings and it will feel really good.
Everyone has setbacks, so don't worry about putting the training wheels back on if you are struggling or have a bad day. Remember this is about having fun.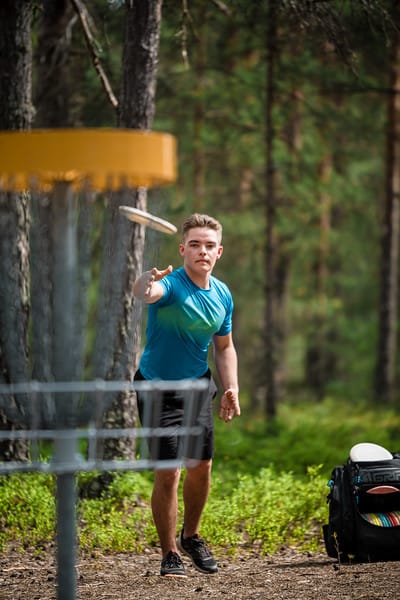 Taking on longer courses
If you live in an area with several courses to choose from with varying difficulty, set the longer, more challenging courses as a goal to work toward. A good sign that you're ready is when you shoot under par regularly at the more beginner-friendly courses.
However, don't expect to conquer the long courses right away. Adjust expectations. Use the first few rounds at a difficult course as a trial and don't worry about score. Just take it in and see which skills you'll need to work on.
Tip: Try more difficult courses by yourself first. That way you eliminate any extra pressure you might put on yourself when there are others around.
If you struggle with the more difficult courses, don't worry. Many disc golfers in your area are probably in the same boat. Do the things you did to master the beginner courses as well as:
Seek professional help. Find a local pro and ask for advice on the course and your game.
Watch video footage of past events using your local courses to see how the pros threw difficult holes.
Retool during field practice. Nothing helps a disc golfer more than practice, especially field practice where you can get many more reps than a round or practicing the course. And, you're less likely to lose discs.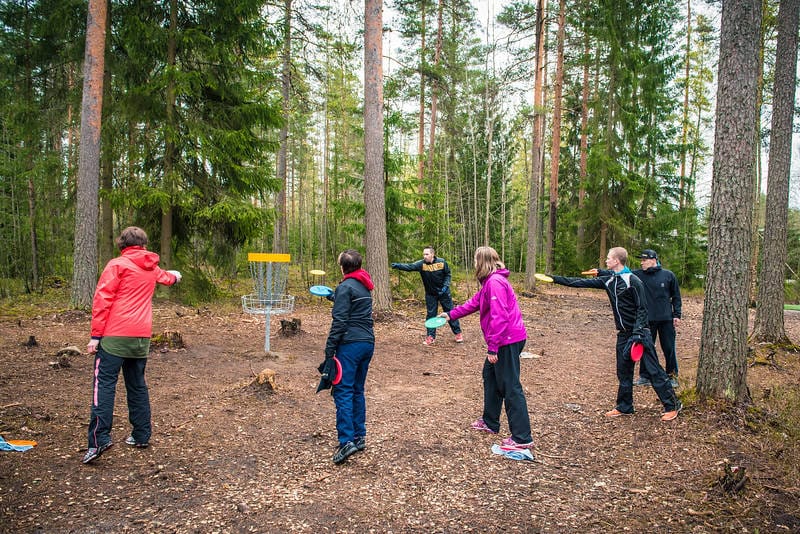 Playing with others makes you better
Playing with friends or joining a group of more experienced players is a great idea, especially when you are new to the game. Disc golf is a very inclusive sport and even the best players love sharing their passion for the game. Most of us are happy to take the time to introduce new players to disc golf and provide some helpful pointers along the way.
You can easily find groups to play with by searching Facebook and UDisc for local leagues and clubs in your area. Most courses have bulletin boards at the start. Check it for club meet-up times as well.
Most clubs offer different divisions for their events, and some will also have individual handicap systems to help level the playing field. You'll be able to play with people at your own skill level and work your way up as you get more competitive.
Tip: Disc golfing with others will help you learn more about the flow, etiquette, and rules of the sport.
Disc Golf is easier to learn
Disc golf has an easier learning curve than many other sports (including traditional golf). You can get to be a decent player rather quickly if you put in the effort.
Disc golf is one of the easiest sports to get into, so get out there and have fun throwing discs around. Whatever courses you end up in, you can easily find a way to enjoy the experience.