Which Practice Basket Should I Get?
This is a question that crosses the minds of many disc golfers who are looking to take their games to the next level. You want to be able to spend time practice putting at home, or you want a portable disc golf basket you can take and set up wherever you want. Yet, there are a lot of different practice targets out there. Which one is the best one for you?
Let's take a deeper look at all of Innova Disc Golf's most popular practice baskets to help you make a better decision.
DISCatcher Pro 28 Target
For when price doesn't matter and durability is king, this is the type of basket you want. The favorite choice for professionals and amateur disc golf players alike, this is the top-of-the-line disc golf basket made by Innova and is the gold standard among professional quality baskets. These heavy-duty baskets feature 28 heavy-gauge chains in multiple rows and a nice deep basket to minimize spit-outs and catch more putts. A feature on more than 10,000 disc golf courses around the world, the top band is easy to see from a distance. Yellow is the most iconic DISCatcher color we see on disc golf courses all over the world, but they are available in a variety of color options, including red, white and blue. DISCatcher Pro 28 Targets can be utilized for permanent installation or come with a portable base to set up anywhere. They are heavy and will take some more effort to move around than typical "practice" baskets, but they offer the highest quality of performance and the highest number of chains.
DISCatcher EZ Target
If you want a high-quality basket with outer chains that is a little easier to move around, then you will want to consider the Innova DISCatcher EZ. This portable basket is great for at-home practice or for temporary tournament setups. Like it's name suggests, it is easy to set up and break down. It features 24 heavy-duty galvanized steel chains on a lighter-gauge basket that is still nice and deep to catch plenty of putts. The top band, which is a slightly scaled down version of the famous Innova band seen on permanent targets, offers good visibility from a distance without adding much weight. This is a great deal of a disc golf basket that players of any level will enjoy using.
DISCatcher Traveler
The DISCatcher Traveler is Innova's most popular portable basket because it can be taken anywhere you want to go. These light-duty baskets only takes seconds to set up. When not in use, it folds up easily into a convenient carrying bag. It's the type of practice basket you can keep in your trunk for whenever you need it, or you can set it up and move it around the yard to practice different putts and approach shots. It features a nice deep cloth basket, sturdy plastic-leg base and cloth top band, along with a light-gauge ring of chains. It is designed for convenience and affordability, and it is ideal for disc golfers who like to travel and have a dependable practice basket always on hand.
SkillShot Target
Another highly portable and budget-friendly option is the Innova SkillShot Target. It weighs in at approximately 25 pounds. It is great for playing disc golf on camping trips or beach adventures, or for creating a disc golf hole anywhere! This foldable basket makes setup super easy and breakdown a breeze. It even comes with a convenient drawstring bag for storage and transport. At an affordable price, this is a great portable cloth disc golf basket to consider for its size and simplicity.
Throw Pink Disc Golf Baskets
If you're in the market for a basket, consider a Throw Pink Disc Golf Basket like the Traveler or DISCatcher EZ. They're the same great Innova disc golf baskets you're familiar with, except that they are decorated with Throw Pink's signature logos and bright pink color. You'll feel good about where your putting game is headed and the fact that a portion of your purchase goes toward funding Throw Pink's great initiatives to grow the sport for women and young girls.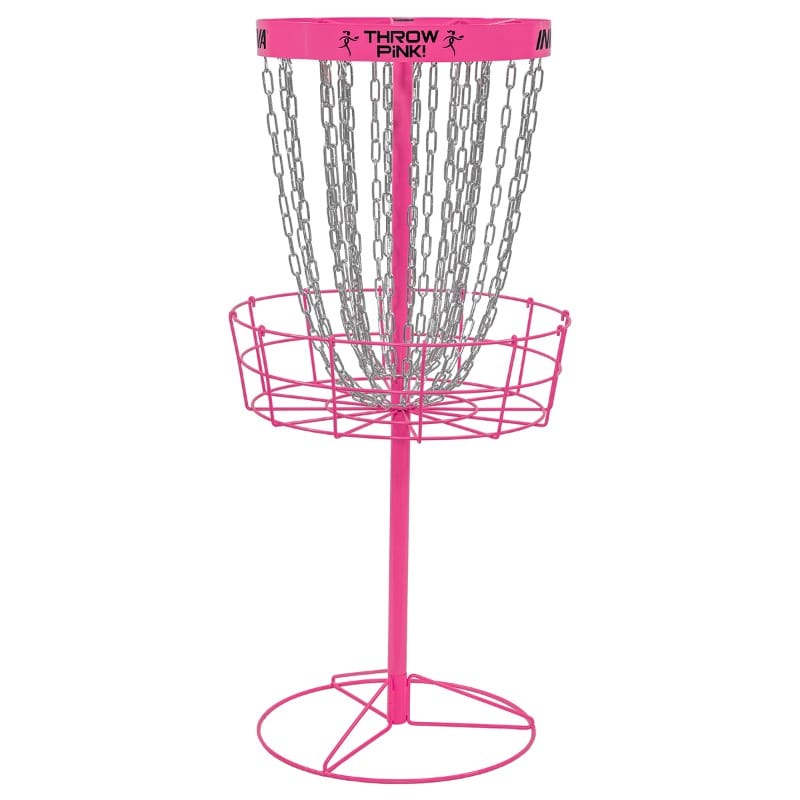 A Practice Basket for Every Disc Golfer
Which practice disc golf basket is best for you will depend on a variety of factors. You will want to consider weight, portability and ease of use. If you plan to set up a practice target in your yard and not move it around much, then the DISCatcher Pro 28 or DISCatcher EZ will be great options. The same goes for those who want to have several high-quality portable baskets to use for temporary tournament layouts. Then, there are those of you who want something super simple and portable. You will definitely want to look at the Traveler and SkillShot cloth baskets for your traveling convenience and ease of use.
Whatever type of practice basket you buy, it will help your game being able to practice more putts and refine your skills around the green. If you are serious about disc golf, then your own basket is a must have!
What's Next?
Need help finding the perfect disc for a specific shot, better accuracy, or more distance? We're here to help! Just follow the link below to answer a short questionnaire. We'll send you FREE personalized disc recommendations within 1 business day along with a coupon code for $5 off your next order.
GET PRO TIPS
Related Posts