Best Disc Golf Cart Accessories: Top Picks for 2023
With the surging popularity of disc golf, an increasing number of players are opting for carts on the course. These carts provide a seamless solution for transporting gear and essentials, amplifying the overall enjoyment of the game. Equipped with a wide array of accessories, a properly outfitted disc golf cart significantly enhances convenience and efficiency during gameplay, taking the disc golf experience to new heights.
We spent numerous hours researching and testing various disc golf cart accessories to bring you a comprehensive list of the best options on the market. These accessories should ensure that your disc golf cart is both practical and tailored to your needs.
Best Disc Golf Cart Accessories
We have compiled a list of the best disc golf cart accessories to help enhance your game experience and keep you organized on the course.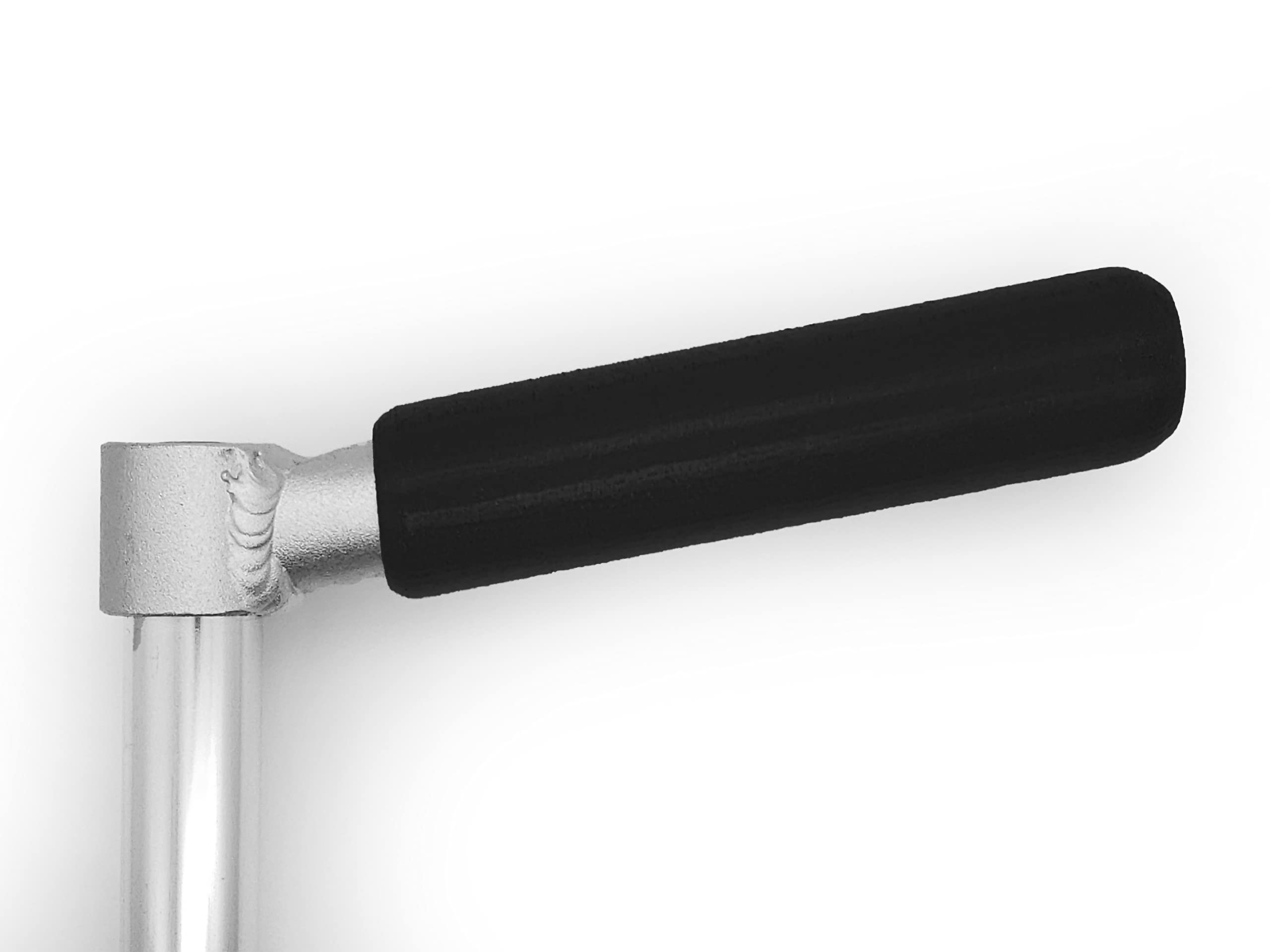 The HYZER HOUND DISCS Zuca Disc Golf Cart Handle Grip is a solid accessory for improving the comfort and grip of your Zuca cart, making it a worthwhile purchase.
Pros
Insulates the metal handle
Fits all Zuca carts
Comfortable, firm foam feel
Cons
A little pricey
All-plastic material
Limited color options
As avid disc golf players, we found the HYZER HOUND DISCS Zuca Disc Golf Cart Handle Grip to be a valuable accessory. It enhances the grip on the cart handle by insulating the bare metal and providing a comfortable feel in the hand. We especially liked the tiny ridges that added extra grip and made the handle feel like a firm foam.
The handle grip is compatible with all Zuca disc golf carts, making it a versatile accessory you can trust. The TPU (thermoplastic polyurethane) construction ensures durability and resistance to the elements. Moreover, the grip is easy to install; just slide it onto the handle and enjoy a tight, secure fit that won't fall off even on rough terrain.
While we appreciate the practicality of this handle grip, we feel that its price could be lower, especially considering the all-plastic material. Additionally, it would be nice to see more color options available for customization.
In conclusion, the HYZER HOUND DISCS Zuca Disc Golf Cart Handle Grip is a reliable accessory that adds comfort and grip to your Zuca cart, despite a few minor drawbacks.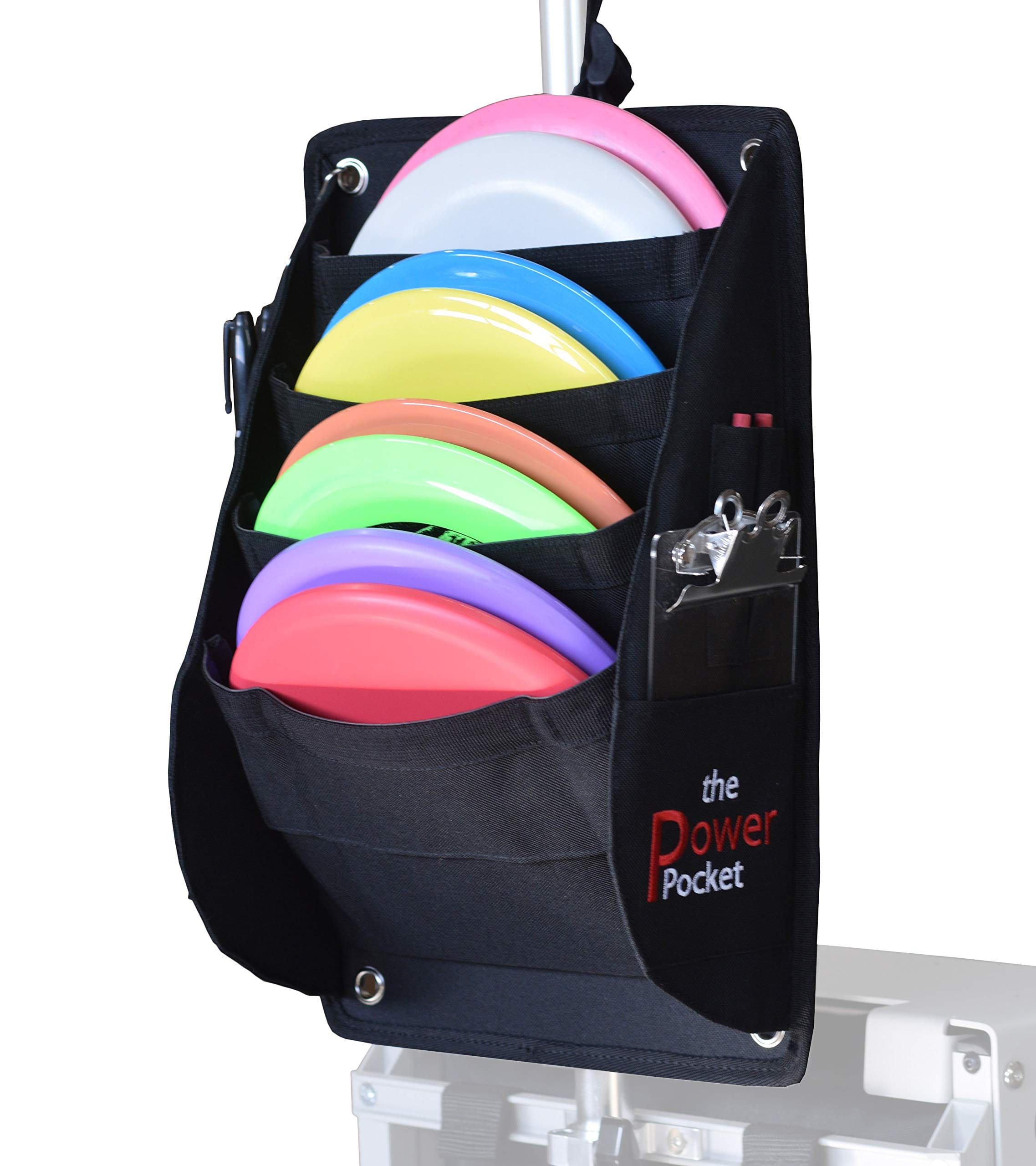 The Infinite Discs Power Pocket is a must-have accessory for disc golf enthusiasts looking to improve their cart organization and functionality.
Pros
Convenient and easy-to-access disc storage
Additional pockets for rangefinder, phone, and keys
Fits most disc golf carts with adjustable strap
Cons
May make the cart feel heavy when fully loaded
No dedicated mini pocket
Pockets could be slightly bigger for optimal fit
We recently used the Infinite Discs Power Pocket and found it to be a great addition to our disc golf cart. With the ability to hold up to eight discs at once, finding and grabbing our favorite discs has never been easier. The accessory pockets are perfect for storing essential items like rangefinders, phones, and keys, making sure everything is in one location for easy access.
The Infinite Discs Power Pocket fits most disc golf carts, thanks to its adjustable strap that wraps around the vertical telescoping tube. We appreciate the fact that it's easy to attach and remove, as per our disc golfing needs. However, we did notice that when fully loaded with discs and accessories, the Power Pocket can make the cart feel a bit heavier than expected.
Despite its excellent functionality, the Power Pocket could benefit from a dedicated mini pocket, as some golfers use mini markers during their games. Currently, we use the Velcro pocket to hold our mini, but it's not a perfect solution. Additionally, the disc pockets could be larger for a more comfortable fit, especially for those who want to store several discs in one pocket.
In conclusion, the Infinite Discs Power Pocket is a worthwhile investment for anyone looking to add convenience and organization to their disc golf cart. It offers ample storage options, easy access, and compatibility with most carts. Just be prepared for a slightly heavier cart when using it at full capacity.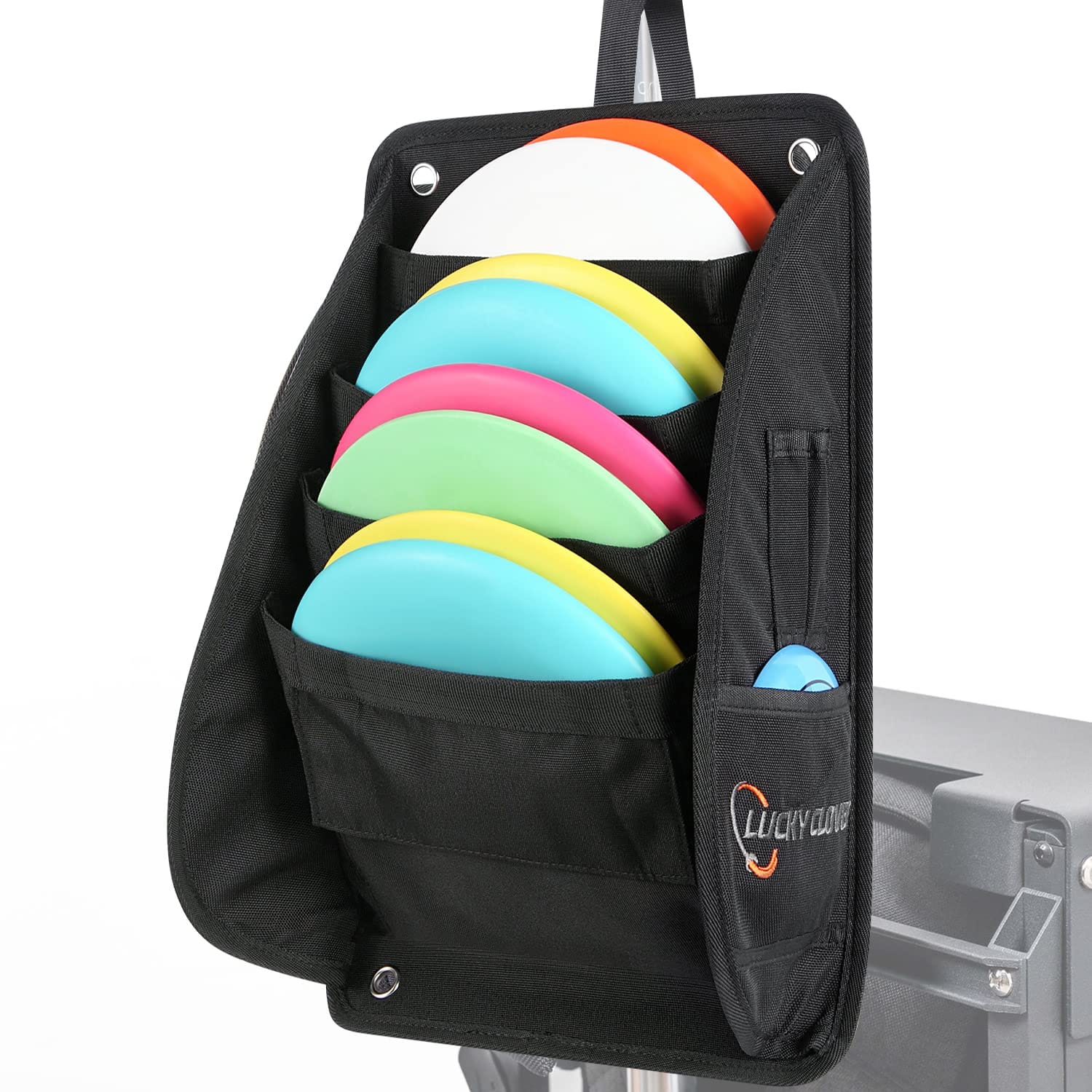 The LUCKY CLOVER Disc Cart Putter Pouch is another must-have pouch for disc golf enthusiasts looking to enhance their game and keep their gear organized.
Pros
Durable material and construction
Well-designed compartments and storage options
Easily fits most disc golf carts
Cons
Side pouches may require careful stacking of discs
Slight bend in the back of the pouch
We recently got to use the LUCKY CLOVER Disc Cart Putter Pouch. This accessory exceeded our expectations with its durable oxford fabric and sturdy stitching. As disc golfers ourselves, we appreciate how the pouch can accommodate 8-10 discs along with other smaller items such as scorecards, pencils, and mini discs.
Moreover, the well-designed compartments are easily accessible for quick grabs during the game. The pouch features accessory side pockets, pencil holders, and a reinforced grommet hole for towels and bag tags, ensuring that everything we need is conveniently within reach.
The LUCKY CLOVER Disc Cart Putter Pouch is compatible with most disc golf carts thanks to its adjustable straps. Our experience with attaching it to various carts has been pretty seamless. We also appreciate its versatility and suitability for both Zuca and other disc golf carts.
However, we did notice that the side pouches needed careful stacking of discs to prevent any issues while accessing them. Additionally, the slight bend in the back of the pouch didn't affect the fit or functionality, but it is worth noting. Lastly, we had to adjust the straps occasionally for a snug fit, but this is a minor issue compared to the overall quality of the product.
In conclusion, the LUCKY CLOVER Disc Cart Putter Pouch is a fantastic accessory for any disc golf fan. It offers durability, convenience, and ease of use, making it a valuable addition to your disc golf setup.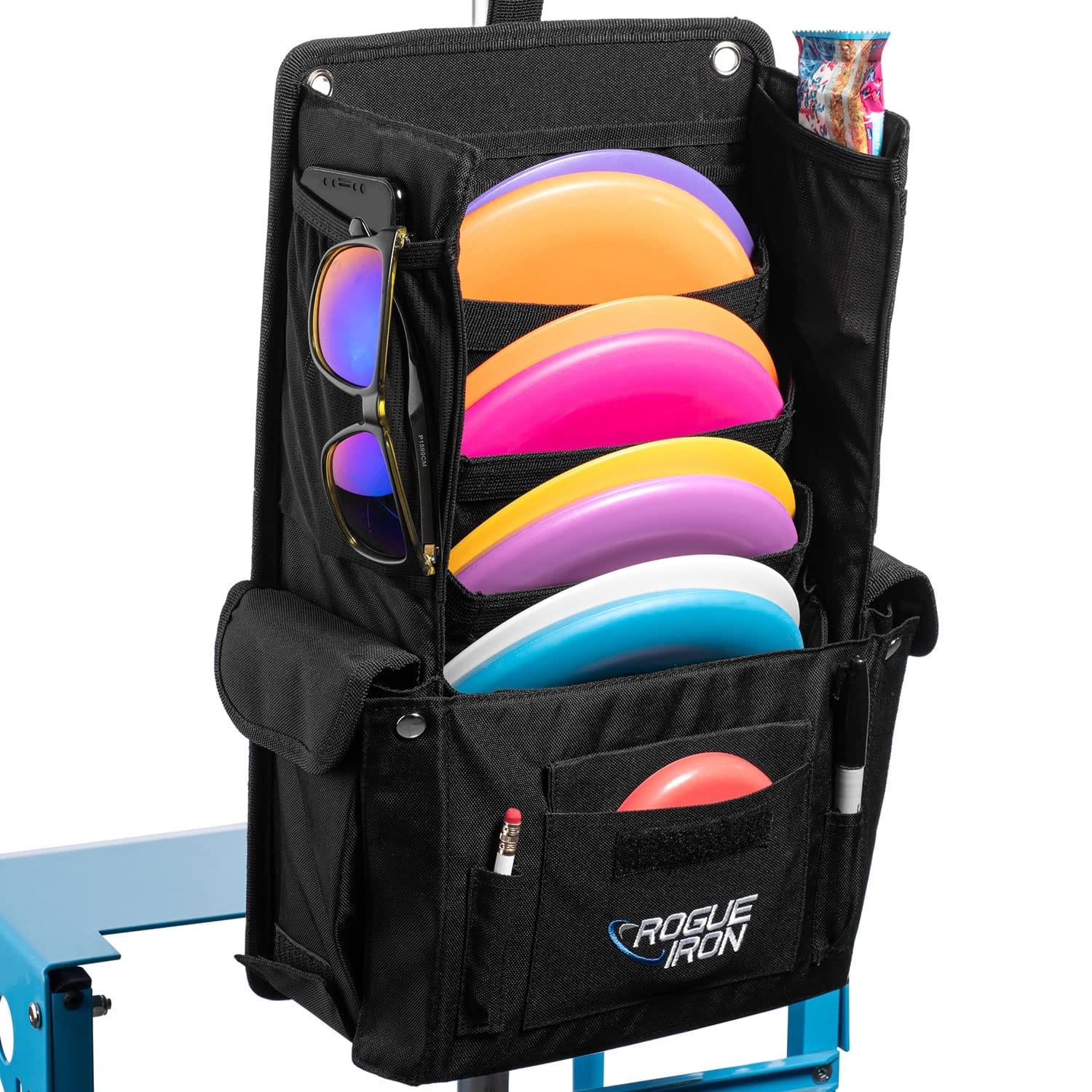 The Rogue Iron Disc Golf Putter Pouch is another great option for disc golfers who are looking for more storage on their cart.
Pros
Lifetime warranty ensures long-lasting use
Holds 8+ discs for easy access during games
Offers ample storage for various items such as phone, snacks, and scorecards
Cons
May cause smaller carts to tip when fully loaded
Elastic pockets on sides might not fit larger phones
Some users may find it too large for their carts
After recently using the Rogue Iron Disc Golf Putter Pouch, we can say that it's a fantastic addition to any disc golf cart. The putter pouch holds more than eight discs and provides easy access, minimizing the need to bend over and search for the right disc during rounds. The pouch is designed with the player in mind, and it's evident in the ample storage space for essentials like your phone, range finder, snacks, and scorecards.
The construction of the putter pouch is both durable and functional, ensuring the product lasts thanks to the lifetime warranty. The mini-pocket makes accessing your mini marker a breeze, and the adjustable straps ensure compatibility with all disc golf carts, even working perfectly as a Zuca putter pouch.
However, a few downsides to consider with this product include the size and weight. When fully loaded with discs and other items, it can cause smaller carts to tip, which might not be ideal for some users. Additionally, the elastic pockets on the side might not accommodate larger phone models.
In conclusion, the Rogue Iron Disc Golf Putter Pouch is a reliable and convenient accessory that's perfect for disc golf enthusiasts who require easy access to their discs and ample storage for all their game day needs. Despite some minor drawbacks, its benefits far outweigh the cons, and we'd highly recommend it to any avid disc golfer.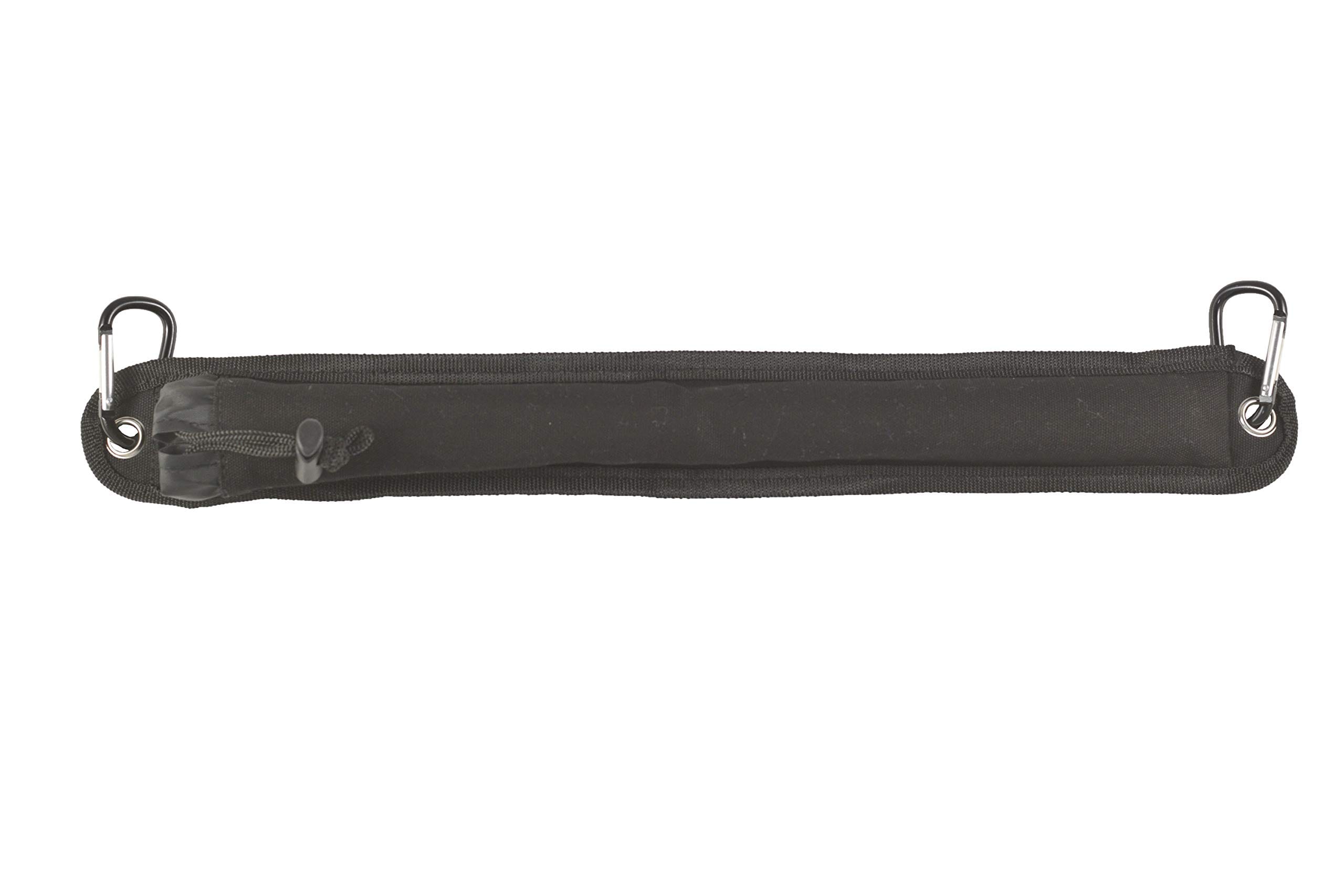 Disc golfers should consider this practical and functional retriever sheath to store their retriever poles with ease.
Pros
Multiple attachment points
Easy storage of disc golf retriever
Secure storage with pull-string closure
Cons
May not fit all cart models
Limited to specific pole sizes
We found the Infinite Discs Disc Retriever Sheath to be a convenient addition to our disc golf cart accessories. With multiple loops, adjustable straps, and two carabiners, it is easy to attach the sheath to almost all disc golf bags or carts.
The storage pocket is purpose-built to hold your disc retriever securely during your round, ensuring it stays safe and easily accessible when needed. Additionally, the pull-string closure ensures that your retriever stays secure inside of the Retriever Sheath at all times. It is perfect for those who are looking to add this practical accessory to their collection.
However, we did notice that the Infinite Discs Disc Retriever Sheath may not fit all cart models. Also, it may cater to specific retriever pole sizes.
Overall, the Infinite Discs Disc Retriever Sheath proves to be a valuable and functional addition to any disc golfer's cart!
This Disc Golf Cart Putter Clip is a must-have for those who want easy putter access.
Pros
Holds 2 putters for easy access
Compatible with any ZUCA cart
Durable and flexible material
Cons
Might be hard to install
Potential issues with hot weather
Notch placement could be better
The HYZER HOUND DISCS Disc Golf Cart Putter Clip is a remarkable addition to your ZUCA cart, allowing you to swiftly grab your favorite two putters without any hassle. We were impressed with how effortlessly it attached to the cart handle and stayed in place due to the flexible thermoplastic polyurethane (TPU) material.
However, we did notice that it was a bit tricky to put on initially – it is recommended to watch online videos for proper installation. Once installed, though, it held the putters firmly and securely, making it an invaluable accessory for any ZUCA disc golf cart.
One potential concern we came across was how the clip would perform during hot summer months when the TPU material could become more malleable. Time will tell how it holds up in extreme temperatures. In addition, the notch placement could be improved for easier attachment and detachment of discs.
Overall, we believe the HYZER HOUND DISCS Disc Golf Cart Putter Clip is worth considering for any disc golf enthusiast looking to upgrade their ZUCA cart setup. Its convenience and durability outweigh the minor installation difficulties and potential hot weather concerns – plus, it's made in the USA by a passionate disc golf family-owned business.
We recommend the Infinite Discs Power Pocket XXL Rainfly for disc golfers seeking reliable protection for their accessories during play.
Pros
Waterproof material
Large size covers Power Pocket XXL
Access flap for easy disc retrieval
Cons
Bulkiness
Only one size available
Zipper closure may not be preferred by all
Having used the Infinite Discs Power Pocket XXL Rainfly during a recent rainy day, we can confidently say that this accessory is a must-have for disc golfers who play in varying weather conditions. The waterproof material very effectively kept our discs and other accessories dry, which allowed us to completely focus on our game. One aspect we particularly enjoyed was the access flap, which made retrieving our discs a breeze. This design feature adds convenience and minimizes interruptions during play. However, an inconvenience that we come across was that the Rainfly may add some bulk to your disc golf cart when it's not in use. Depending on the cart's design and storage options, this could potentially limit space for other accessories or items.
Another point to consider is the zipper closure system. While we found it secure and functional, some users might prefer a different closure method for their disc golf cart accessories. Overall, the Infinite Discs Power Pocket XXL Rainfly is a great investment for disc golf enthusiasts, providing significant protection from the elements while maintaining ease of access to discs and other accessories.
Here is the regular sized version of the same rainfly: Infinite Discs Power Pocket Rainfly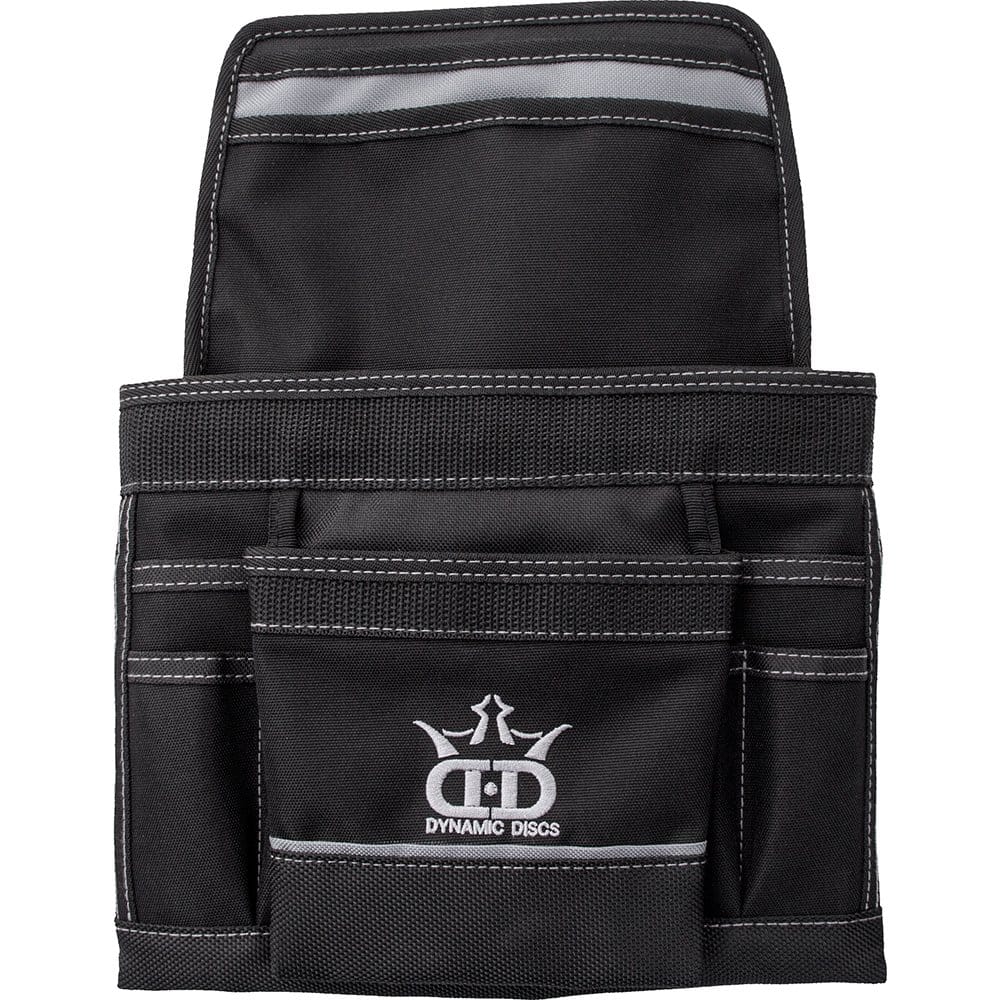 The Dynamic Discs ZUCA Cart Putter Pouch is a must-have for disc golfers who want to keep their game essentials organized and within easy reach.
Pros
5-pocket pouch for convenient storage
Handy access to putters, scorecard, and pencil
Includes 2 grommets for hanging towels and more
Cons
Pockets may be too tight for some items
May require removal when collapsing the cart handle
May not fit all types of carts perfectly
The Dynamic Discs ZUCA Cart Putter Pouch is the perfect accessory for your disc golf cart. This 5-pocket pouch ensures your game essentials are kept organized, giving you easy access to your putters, scorecard, and pencil. In addition, there is plenty of room for your phone, birdie bag, and snacks.
Designed to easily secure to the cart's pole handle with a Velcro strap, the pouch is very user-friendly. Another great feature is the inclusion of two grommets for hanging towels and more, streamlining your disc golf experience.
However, some users may find the pockets too tight for certain items, making them less accessible. Additionally, the pouch may need to be removed when collapsing the cart handle. Finally, it might not fit all types of carts, so compatibility should be carefully considered before purchasing.
In conclusion, the Dynamic Discs ZUCA Cart Putter Pouch is a valuable investment for disc golf enthusiasts, offering great organization and storage for essential items. Despite a few minor drawbacks, its convenience and functionality make it a handy accessory for your disc golf cart.
This Disc Golf Chalk Bag from Hyzer Hound Discs is a worthwhile purchase as it helps improve your grip, prevents slippery throws, and attaches easily to your bag or cart.
Pros
Enhances grip and dries hands
High-quality, handmade material
Easy attachment to bags and carts
Cons
Slightly smaller than advertised
Chalk bag completely sealed, making refilling difficult
As avid disc golfers, we understand the struggle of trying to maintain a consistent grip with sweaty hands during hot summer days. That's why we found the Hyzer Hound Disc Golf Chalk Bag to be an essential addition to our gear. The chalk dries our hands effectively, significantly improving our grip, and it doesn't leave our hands feeling too tacky or overly dusted.
Every Hyzer Hound chalk bag is handmade in the USA with high-quality materials, ensuring durability and uniqueness – no two patterns will ever be the same. The chalk used is finer than most competitor bags, and we appreciate that it doesn't create an overwhelming cloud of dust when we use it.
The heavy-duty carabiner offers a convenient way to attach the chalk bag to any golf bag or cart. This keeps it easily accessible and eliminates the risk of leaving it behind on the course.
However, there are a few drawbacks to consider. The chalk bag is slightly smaller than advertised, which might be an issue for those with larger hands. Additionally, the bag is completely sealed, making refilling the chalk a challenge once it runs out.
Overall, despite its minor flaws, we believe the Hyzer Hound Discs Disc Golf Chalk Bag is a valuable accessory for any disc golfer looking to improve their grip during the game and stay confident on the course.
Buying Guide
When choosing the best disc golf cart accessories, it's essential to consider several factors to ensure you get the most out of your investment. In this guide, we'll discuss the key features to look for while making your decision.
Durability and Quality
It's crucial to choose accessories made from high-quality materials to withstand the wear and tear of frequent use. Look for heavy-duty construction, weather resistance, and sturdy attachment mechanisms to keep your gear secure.
Compatibility
Make sure the accessories you're considering are compatible with your disc golf cart. Depending on the design of your cart, some accessories might not fit well or work seamlessly with your setup. Always check the product specifications to ensure a proper fit.
Functionality and Capacity
Disc golf cart accessories should help make your game more convenient and enjoyable. Prioritize functionality, such as ample storage for your discs, drinks and other essentials, or attachment systems that keep items easily accessible while you're on the course.
Portability and Weight
We believe it's important to find accessories that are lightweight and easy to transport. Overloading your cart with heavy or cumbersome items might make it more difficult to maneuver and potentially put strain on the wheels and frame.
Price and Value
Lastly, consider the price and overall value when choosing your disc golf cart accessories. Don't be swayed by low-cost options that sacrifice quality and be prepared to invest in reliable, long-lasting additions to your cart.
By thoroughly considering these factors, we're confident that you'll find the best disc golf cart accessories for your needs and improve your overall playing experience without breaking the bank.
Frequently Asked Questions
What are essential accessories for a disc golf cart?
For essential disc golf accessories, prioritize a sturdy bag to store discs, a water bottle holder, and an umbrella holder. Additional compartments for snacks and personal items are beneficial. Opt for a cart with an adjustable handle and robust tires for smooth course maneuvering.
Which disc golf cart modifications are popular?
Popular disc golf cart modifications include adding extra storage compartments or bags for increased capacity, adding a mini cooler for snacks and beverages, and installing LED lights for better visibility during low-light conditions. Some players also opt to upgrade their tires for improved performance on various terrains.
Where can I find the best accessories for my Zuca cart?
Zuca owners can explore a variety of custom accessories on the official website or through authorized retailers. Furthermore, they have the option to consider third-party choices available at sporting goods stores, disc golf specialty shops, and online platforms such as Amazon, providing added flexibility and a wide selection.
What do professional disc golfers recommend as must-have cart accessories?
Pro disc golfers suggest investing in a durable cart, a sturdy water bottle, and a rainfly for unpredictable weather. Other highly recommended accessories include a towel for wet discs, a disc retriever for lost discs, and a seat cushion for added comfort during long rounds.
How can I personalize my disc golf cart?
You can personalize your disc golf cart in various ways. Add stickers or decals to give it a unique look, upgrade the tires for better performance, or install additional storage options or compartments for convenience. You can also get inspiration from fellow disc golfers or explore DIY ideas for creativity and personal touch.
Where can I purchase high-quality disc golf cart accessories?
High-quality disc golf cart accessories can be found at local sporting goods stores, specialty disc golf shops, or through online retailers such as Amazon and eBay. Be sure to read customer reviews and consult with fellow disc golfers to ensure you are getting the best value and quality for your investment.
What's Next?
Need help finding the perfect disc for a specific shot, better accuracy, or more distance? We're here to help! Just follow the link below to answer a short questionnaire. We'll send you FREE personalized disc recommendations within 1 business day along with a coupon code for $5 off your next order.
GET PRO TIPS