The Best Disc Golf Putter – 7 Favorites from Innova Disc Golf
There are so many great disc golf discs out there on the market, but which are the best? In this new series, we are going to explore the best disc golf discs. In this article, we are going to focus on putters (aka "putt and approach" discs).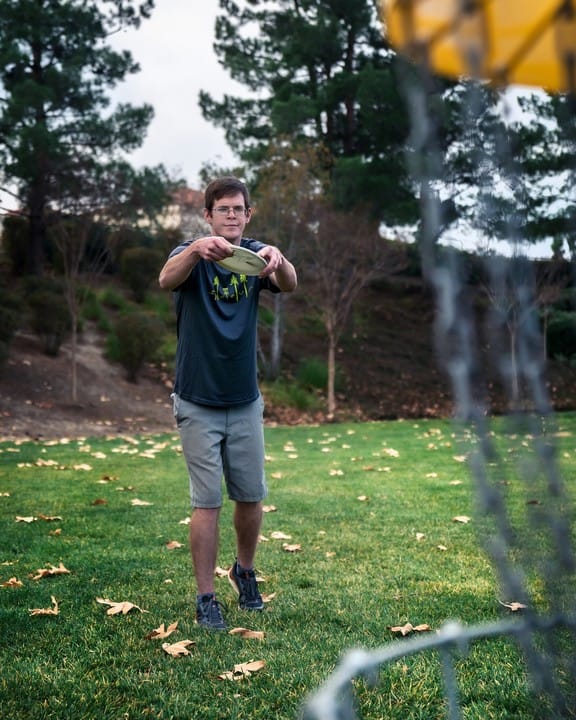 Determining which is the best disc golf putter is not easy. Choosing a putter that is best for you is so much more about feel than any other type of disc. You can pick up a pile of high-speed distance drivers and they will all feel pretty similar in hand. With putt and approach discs, however, each one has a unique shape and feel. They do offer different flight characteristics, with some being overstable and others being more understable. Some will have higher speed and glide ratings while others are designed for increased control. Most putting putters are going to be designed for point and shoot accuracy on the greens.
In future DGU Blog articles in this "best of" series, we will have separate articles about throwing putters and putters that are best for different types of shots like forehands or windy conditions. Today, we want to focus specifically on putting putters. These are putt and approach discs you are primarily going to use for putting within circle 1 and circle 2, and maybe for some short- to mid-range upshots. This is the putting putter you are going to turn to when you want to put it in the chains.
Innova Champion Discs is known for having some of the most popular putting putters and effective approach discs. Let's look at our best disc golf putters:
1. Aviar
First and foremost is the most popular putter ever made, the Innova Aviar. This has been a staple in the Innova lineup since it was invented. It is a beadless putter with a fairly deep rim, which makes it a straight-shooter with good neutral glide. It is extremely dependable putting putter and versatile disc. Push putts, spin putts, and putters of all skill levels will love this disc.
Now, which Innova Aviar you like best may be a matter of personal preference. There are a lot of different variants in the mold and plastics. The versions that have stood the test of time are the JK Pro Aviar (5x World Champion Juliana Korver Signature Model) and the KC Pro Aviar (12x World Champion Ken Climo Signature Model). Current Team Innova members like James Conrad, Gregg Barsby and Jessica Weese have also had their own Aviars released. There are versions of Aviars with and without beads, in different grade plastics, and a variety of other slight modifications to suit different players' needs and preferences.
2. Nova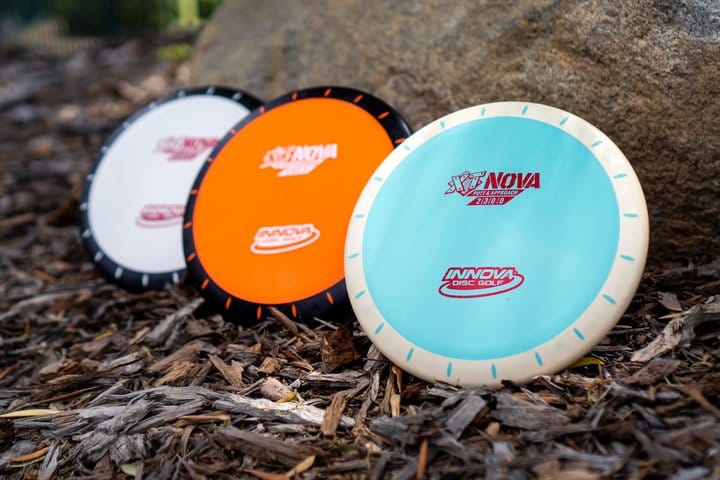 The XT Nova is one of the most unique-looking putter discs on the market because of its overmold design. The inner plate uses our firm XT plastic blend that feels great in the hand while the outer rim is a softer rubber blend that just loves to grab the chains. The rim material and design also makes it great for approach shots because it lands soft and doesn't get a lot of ground play. You will also ultimately find the Nova on our list of the best throwing putters because it offers a super-straight flight path. Whether you are using it for short putts or full throws, you will be amazed at how this straight flying disc is so consistent and perfect for all skill levels!
3. Dart
Probably the most famous Dart thrower is Innova Star Team Captain and 2017 USDGC Champion, Nate Sexton. He uses this versatile putter for longer putts outside of circle 2 and for medium forehand and backhand upshots. Then he turns to his signature Firefly for short putts. It provides a very straight flight and ample glide for point-and-shoot accuracy. This putter is one of the more overstable putters in premium plastic and basic plastic. For push putters or spin putters, this is a good putter. It's also great for windy conditions. It feels more comfortable in the hand for some players because of its smaller diameter and slightly lower profile.
4. Whale
Disc golfers who like to impart a bit more spin on their putters or depend on hyzer flight will love the Whale. It has a beefy feel in hand and a tiny bead at the bottom that some players really like for finger positioning. The flight ratings let you know it can handle a little more torque than an Aviar because it offers more stability. In addition to being a great putting putter, some players like it for longer throws and approaches, as well as sidearm upshots, because it has a dependable finish and lands soft on the ground.
5. Polecat
The Polecat is not for everyone, but those who use this putter regularly will swear by it. It features a low profile and unique blunt edge, and according to it's flight rating, it is one of the only 1-speed discs on the market. Those coming from a Frisbee background may like the feel and flight of a Polecat. It tends to hold whatever flight path you put on it and the blunt rim really catches the chains well.
Underrated Pick: Hydra
Of the list above, we all know that Aviars and Novas get the most attention, and there are a lot of other wonderful putters that Innova makes like the Aero, Rhyno, Pig and Colt. We feel the most underrated Innova putter is the Hydra. This is a more overstable putter that is great for push putting, hyzer putts, and controlled short upshots. One other bonus is that it actually floats in water. Many beginners love the Hydra, especially if they are playing a course with any ponds or lakes and they don't want to lose their favorite putter!
Utility Pick: Sonic
Those coming from an Ultimate Frisbee or beach toss background will love the look and feel of the Sonic for certain shots. Innova power couple, Garrett Gurthie and Jessica Weese, both utilize their Sonics for a variety of approach shots. It is one of the best utility disc golf discs out there. The thumb traction grooves on top provide extra grip and control and you can put this super understable disc on some really interesting lines through the woods. Like the Polecat's flight ratings, it is a 1-speed putter, but offers more glide and a lot more turn (-4 turn flight rating).
Plastic Options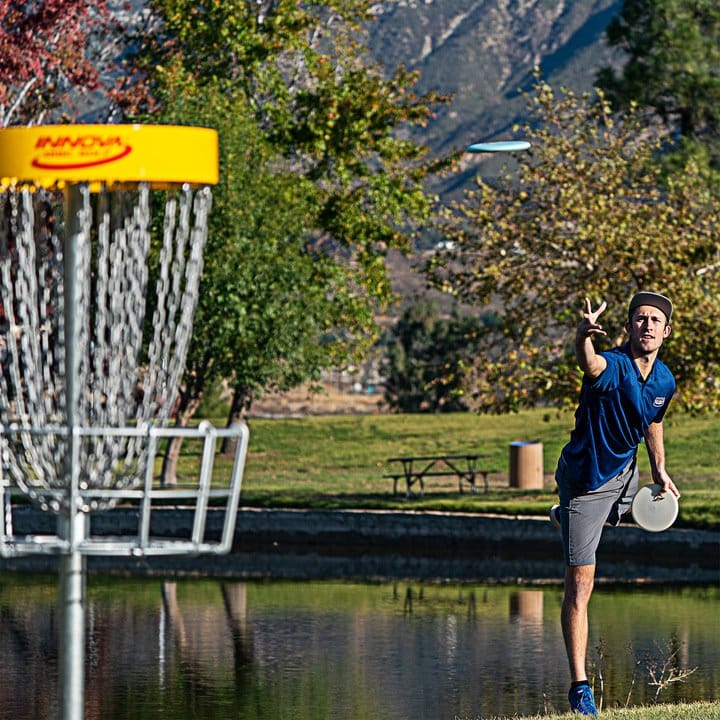 All Innova putters come in a variety of plastics and special blends. Though a different type of plastic may affect flight characteristics and durability of the discs, grade plastic choice for players often comes down to grip. Some base plastics are softer plastics and rubber blends that provide better grip that most prefer for putting, but other disc golfers are more comfortable with premium plastic discs like Star and Champion putters that have the same feel as the drivers, fairways and mid-ranges in their bags.
Bead vs. No Bead
Last but not least, we do need to address the topics of beaded rims. A "bead" is when there is a little lip at the bottom of the disc that some disc golfers like for placing their fingers for putt control. A bead usually provides a touch more flight stability for overstable discs. Some players don't like beads. Whether you like putters with or without a bead is up to you. It's all about how it feels in your hand and whether you like a bead or not, and of course how pronounced of a bead you prefer.
Ultimately, finding the right putter comes down to how well it feels in your hand and how the flight fits your particular putting mechanics. Some players are natural at spin putting, while others have more of a push putt style. And then there are those tweeners who have what we call a "spush" putt. Everyone's putt is a little different and everyone will feel comfortable with different disc golf putters. Sometimes you just have to try a few and see what you like best.
What's Next?
Need help finding the perfect disc for a specific shot, better accuracy, or more distance? We're here to help! Just follow the link below to answer a short questionnaire. We'll send you FREE personalized disc recommendations within 1 business day along with a coupon code for $5 off your next order.
GET PRO TIPS