Disc Golf Stamps: How They're Made
A Closer Look at Disc Golf Hot Stamps:
Grab the closest disc golf disc to you. Chances are good it came with some sort of lettering or design that was applied with a hot stamp machine for disc golf.
For decades disc golf manufacturers have used the quick and effective hot stamp process to identify and decorate discs. The process has become so fine-tuned over the years that the simple designs of the early days have given way to today's highly detailed disc golf stamps. Cool disc golf stamps are everywhere. So let's take a closer look:
Below: Here's an example of an early Innova hot stamp.
In this article, we'll: 
Detail the hot stamp process
Share cutting-edge hot stamps from Disc Golf United
Explain the difference between dyed discs and hot stamps
Review the requirements for a custom hot stamp for your event, organization, or personal use
How to Hot Stamp a Disc?
The first step is to cast a die with the artwork design. A die is a magnesium plate that you insert into the hot stamping machine that's required for any disc stamp. A specialized hot stamp foil is placed between the die and the disc. Using pressure and heat, the hot stamp machine then presses or stamps the blank disc so that the foil adheres directly to the plastic – leaving the desired image or lettering or both on the disc.
Below, a skilled Innova hot stamper is applying the stock stamp to Star Destroyers. 
All the Colors of the Rainbow
This hot stamp design process is easily repeated. Skilled hot stampers can apply hot stamps to a pallet of discs (up to 2200 discs) in a handful of hours. Most disc golf manufacturers like to utilize a variety of disc colors and foil colors to produce discs that are eye-catching. There are many different foils we use at Innova and Disc Golf United, ranging from simple matte finishes to intricate patterns, holographic effects, and funky textures. Most discs are stamped on the top side of the disc, but you will also see some special runs with bottom stamps or top-and-bottom stamps.
Below: A selection of foil colors at the Innova East Hot Stamp department.
Stamp Sizes: 
Stamp sizes range from a mini stamp that is roughly 3" X 3" to XXL, which covers almost the entire disc flight plate.
Works of Art: DGU Originals 
As disc golf has grown, players and collectors have wanted more and more detailed illustrations hot stamped onto discs. Here at DGU, we pride ourselves on the quality of our custom disc golf stamps. Practically every week, we pair an awesome Innova disc with an original design from one of our DGU artists. Take a look at our DGU Original disc page and you'll find disc designs that take hot stamping to the limit!
Multi-Foil Hot Stamps: Pushing the Hot Stamp Envelope
A majority of mass-produced disc golf discs will feature one foil stamp. However, it is becoming more popular to see multiple foils used on the same disc. This requires a much more complex and careful hot stamping process. That's because multiple dies and foils are used for two or even three hot stamping presses on each disc being produced. Everything has to be lined up just right to make the final product look great.
If you've seen DGU's awesome stamp designs from our artist, Marm O. Set, you'll know what we mean. Some multi-foil examples include our fun brand parody series (Lucky Chains, Count Chuckula, Cap'n Crush, Dr. Putter, etc.) and special runs like our War Pig, which features a sick combination of three color foils on each disc!
Below: The very popular Lucky Chains Halo Star Tern sports three different stamp foils.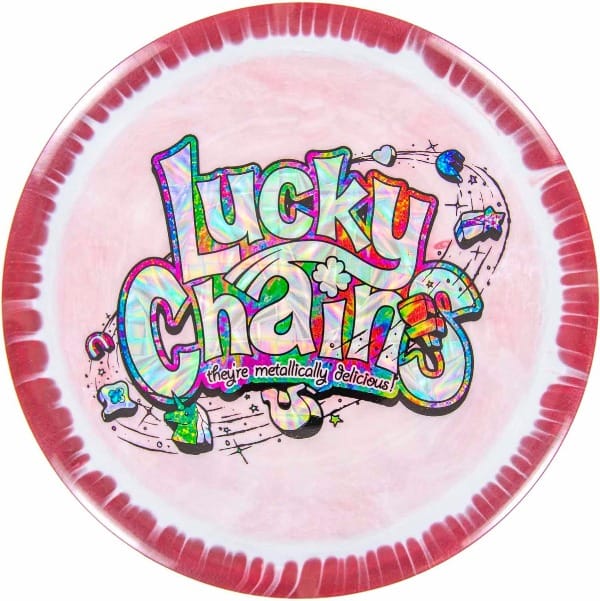 Hot Stamps vs. Dyes
Hot stamping is a different process compared to disc dyeing, which is the art of applying dye or ink to create unique designs on plastic. You can learn more about disc dyeing by clicking here. Innova's InnColor stamps are also different than traditional hot stamps, as they feature full-color graphics and pictures printed directly on white discs.
Hot Stamp Requirements for Custom Stamp Disc Golf Discs
Ever had a design in your head you wanted on a disc? If you are interested in creating custom stamp discs of your own there are several things to keep in mind.
Any image must be prepared or converted to black or white and must be 330 Pixel Per Inch (PPI) in size.
Any piece of artwork that is black will be what is transferred to the disc from the foil. Avoid solid areas larger than a thumbnail. Large solid areas risk stamp dropouts. 
Avoid overly fine detail. Artwork that is too thin will either not be picked up by the hot stamp or will bleed into other parts of the design.
The text should be 12 points or higher and should be well-spaced apart. 
Avoid artwork on the disc's sprue (very middle of the disc).
Also keep in mind:
Most custom stamp orders require a minimum order of discs. Check with DGU to see specifics.
You must own the image submitted or have permission to use the image.
Contact Us to Learn More:
The graphic artists at DGU and Innova are very experienced with hot stamps, so they may offer advice or revisions to improve your artwork for the hot stamp process. If you want us to help design custom artwork for your tournament or club, contact us and we'll gladly guide you through the process.
[email protected] or 800-339-2259