Which is the Best Disc Golf Bag?
One of the best things about becoming an avid disc golfer is getting into all the gear. It's exciting to buy new discs, but then comes the all-important question of how will you carry them all? That's when you start shopping around to find the disc golf bag that is best for you.
"Best for you" is the key statement here. Simply asking "What is the best disc golf bag?" is a loaded question. Ask any manufacturer and they'll tell you their disc golf bags are the best. Ask any disc golf retailer, and they'll point you to whatever they have in stock. Ultimately, you want to find a bag that gives you the functionality you need and the features you want.
Innova produces a disc golf bag or backpack for every kind of disc golfer and every kind of budget. Read more to see which one fits your game.
Innova Adventure Backpack
One of Innova's best value disc golf bags is the Adventure Pack (pictured above). It is an extremely versatile, comfortable, and streamlined bag that gives you all the basic storage features you need—and then a little extra. It can hold 20-25 discs and a water bottle while remaining super convenient and lightweight. It's ready to take on any disc golf adventure! Adjustable straps with an upper compartment for extra space puts your putter and additional discs well within reach. Great for a beginner or casual player. Learn more about the Innova Adventure bag here.
Innova Safari Backpack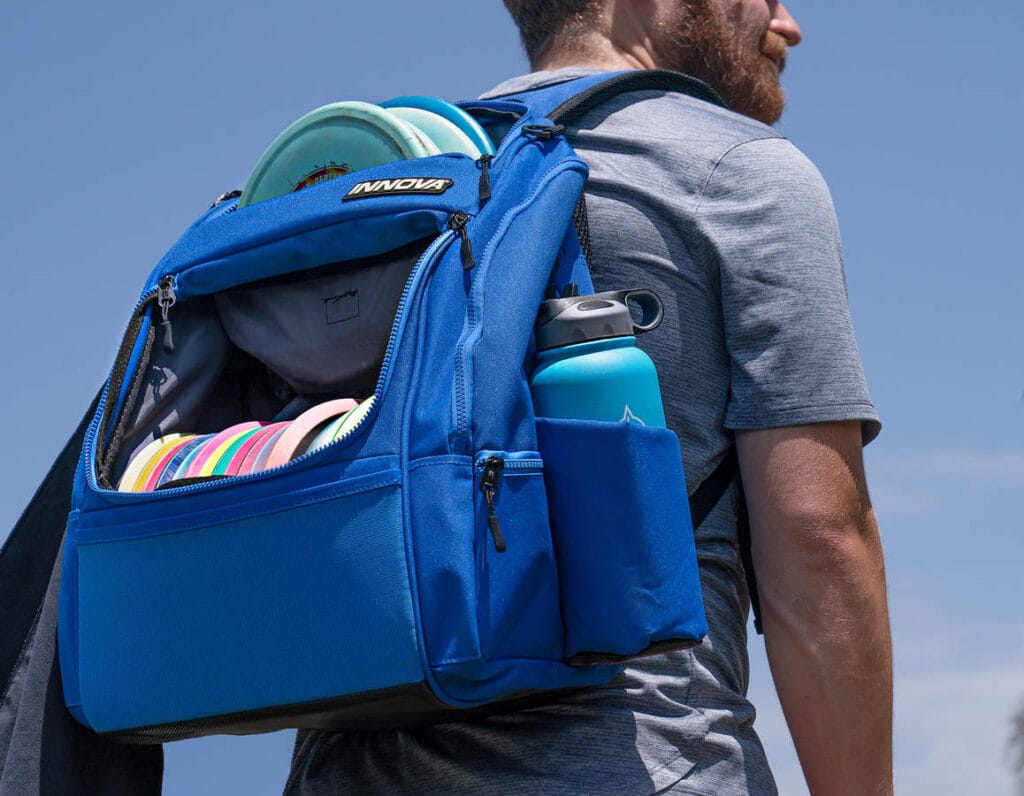 The Safari Backpack is Innova's top-of-the-line choice. It is designed for the most active disc golfers who want padded shoulder straps, multiple water bottle pockets, a ton of storage space and all the bells and whistles. It holds 25+ discs between the main disc compartment and the putter pockets. The side pockets are expandable with space for a hoodie or light jacket. The back padding and padded straps provide extra comfort, while the reinforced material is extremely durable. This is the ultimate bag for a serious disc golfer! Learn more about the Safari Backpack.
Excursion Bag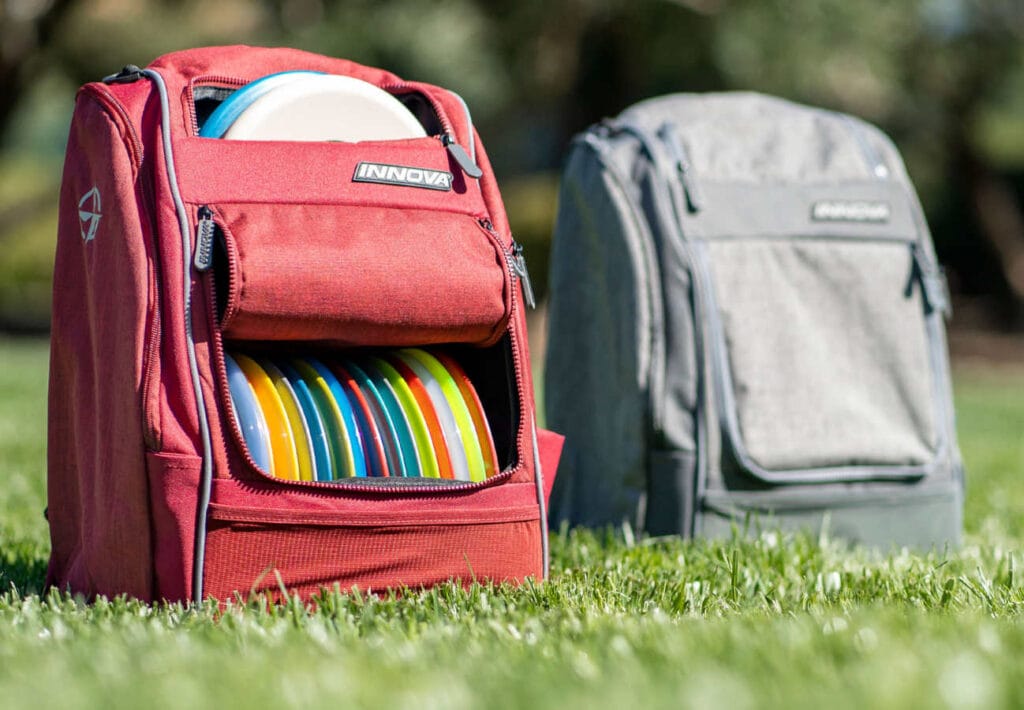 When you want a great tournament bag, but don't really need something as big as the Safari Bag, the Excursion is a great choice. It has solid construction and comparable disc capacity to Safari Bag (25+), but offers a simpler, sleeker design for all-day disc golf excursions. Don't be fooled by its smaller size, though, as it has padded shoulder straps, extra pockets with a hidden zipper pocket and special features to hold plenty of gear. It also includes a rain cover in the rear zipper pocket, which is convenient when the weather turns on you. Learn more about the Innova Excursion Bag.
Discover Backpack
When you want a more basic disc golf bag, but prefer the backpack style, the Discover Backpack is an excellent choice. It comes in a variety of unique colors, holds up to 15 discs and features a water bottle holder. It is a simple, convenient and comfortable option for a beginner disc golfer or for travel when you don't want to pack your entire collection of discs and accessories. The Discover keeps it easy and affordable! Learn more about the Innova Discover Backpack.
Standard Bag
This is a great disc golf bag option for a newer disc golf player or all skill levels for those who don't want or need to carry a ton of discs and extra gear. It is a handy bag with a convenient detachable shoulder strap. Featuring a 8-12 disc capacity, a 32-ounce beverage drink holder and just enough storage for your valuables, scorecards, pencils and snacks. The inside dividers allow for many disc storage configurations. Learn more about the Innova Standard Bag.
Starter Bag
For a disc golfers just getting into disc golf, playing mostly casual rounds, and only owning a few discs, the Starter Bag lives up to its name. It's a good place to start. It will hold up to 12 discs and has a mesh water bottle holder and putter pocket, in addition to one outer zippered pocket for your keys, wallet and other small gear. Sometimes, the simplest option is exactly what you need. Learn more about the Innova Starter Bag.
Hopefully, this guide will help you decide which disc golf bag is best for you and your game. Whether you are just getting started or have been playing for many years, we have the bags to suit any player's game.
What's Next?
Need help finding the perfect disc for a specific shot, better accuracy, or more distance? We're here to help! Just follow the link below to answer a short questionnaire. We'll send you FREE personalized disc recommendations within 1 business day along with a coupon code for $5 off your next order.
GET PRO TIPS